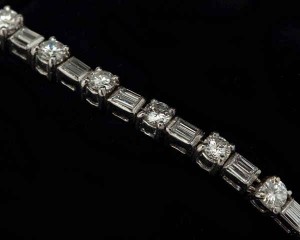 The Art Deco era is widely regarded as one of the most interesting and stylish periods in our history, particularly when it comes to accessories. Running from the 1920s to the mid-1930s, the Art Deco era was one of loud jazz, free-flowing alcohol and bold fashions. The women of the Art Deco era began to push the boundaries of style, throwing off Victorian restraints and experimenting with both clothing and jewelry. The ladies of this period often paired short, fringed dresses with fine jewelry in geometric shapes and futuristic motifs. Characterized by flamboyant designs and bright jewels, Art Deco jewelry is still considered some of the most original and eye-catching of all styles. And lucky for those with a taste in antique necklaces, rings, bracelets and brooches, Biris Jewelers in North Canton, Ohio just happens to have a wide selection of Art Deco pieces available. This Stark County, Ohio establishment appreciates the beauty and creativity of the jewelry from this period, which is why they offer a variety of high-quality pieces in their shop. By visiting Biris Jewelers, not only will you be able to find unique metals and jewels not offered at other Massillon, Ohio and Canton, Ohio jewelry stores, but you'll have the opportunity to expand on your own personal style as well.
The great thing about fashion is that there are no limits. Women have a lot of flexibility when it comes to the clothing and accessories they wear. That's why antique necklaces, rings, bracelets and brooches from various periods keep coming back into the mainstream. Designers recognize that parts of history such as the Art Deco era have had a significant impact on fashion. By wearing Art Deco jewelry, your sense of style is not considered outdated, but vintage and artistic.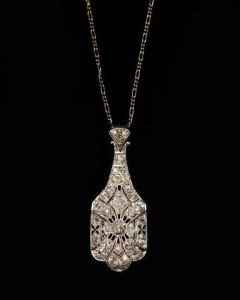 Biris Jewelers of North Canton can help you experiment with your own style by offering a wide assortment of Art Deco pieces. From brightly-colored pendants to sparkling diamond rings, Biris Jewelers' selection of fine jewelry allows you to step back in time to a period when statement pieces were frequently seen on the most chic and trendy socialites. Whether your own apparel is bold or understated, Biris will give you the opportunity to embellish your clothing with tasteful antique rings, bracelets, necklaces and brooches at affordable prices.
As one of the most well-known and respected jewelers in the Stark County area, Biris has built up a reputation for excellence regarding their products and services. Not only can you count on Biris Jewelers to provide you with gorgeous Art Deco jewelry in all shapes and sizes, but fine jewelry that will fit your budget. No matter what type of Art Deco pieces you may be looking for, Biris Jewelers' staff will help you find the most reasonably-priced option that will still act as the striking accessory you want. How many other Canton or Massillon jewelry stores can make the same claim?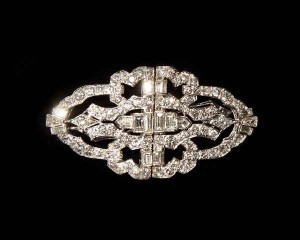 If the thought of having stunning, ornate Art Deco jewelry in your collection is something that interests you, then Biris Jewelers' selection of fine jewelry is well worth a look. To learn more about the Art Deco pieces available from this Stark County, Ohio retailer, visit their website at www.birisjewelers.com. If you have any questions about their antique necklaces, rings, bracelets or brooches, give Biris a call at 330.494.8182. To see their inventory in person, simply take the quick trip from your Canton, Ohio or Massillon, Ohio home to their shop.
Biris Jewelers
806 S Main St
North Canton, Ohio
Ph: 330.494.8182
www.birisjewelers.com