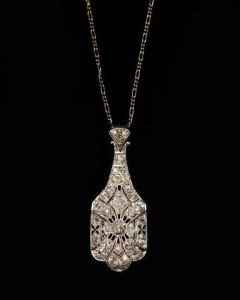 Gold and diamond jewelry have both remained popular throughout the years, but the most sought-after colors and styles of each have varied over the last century. Today's trends, however, are extremely versatile, allowing people to wear a wide range of fashion jewelry pieces without seeming "outdated." Vintage jewelry, for example, is just as prominent in today's fashion as its more modern counterparts, making Biris Jewelers of North Canton, Ohio the perfect place to shop for unique and high-quality accessories. This family-owned jewelry store in Stark County, Ohio carries a large selection of white gold and yellow gold jewelry, giving patrons the opportunity to pick up eye-catching pieces that will allow them to stand out while walking down the crowded streets of Massillon, Ohio; Canton, Ohio; and Jackson Township, Ohio.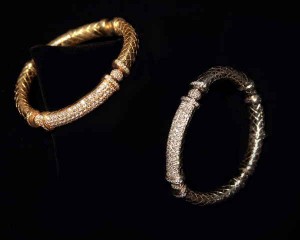 With the flexibility of today's fashions, people have the chance to step back in time by wearing gold and diamond jewelry that was all the rage "back in the day." From 1920 to 2013, white gold and yellow gold jewelry have competed against one another to be the preferred metal. But now it seems that contest has come to a screeching halt as both types are worn on runways, shop mannequins, and everyday people in areas just like Stark County. Whether your personal style leans more toward vintage jewelry in a silver tone or fashion jewelry pieces with a yellow-gold hue, you have the freedom to wear whatever rings, necklaces, bracelets, brooches, or watches happen to catch your eye.
At Biris Jewelers, the eclectic nature of today's style is celebrated. The associates at this family-owned jewelry store in North Canton encourage patrons to select the gold and diamond jewelry they feel suits them the best. Offering a wide range of white gold, yellow gold, and platinum jewelry, Biris Jewelers allows their customers to express their individuality through an assortment of modern and vintage jewelry. Unlike other stores in Massillon, Canton, or Jackson Township, Biris doesn't focus on one specific line; instead, they carry a variety of high-end pieces to fit each individual who walks into their shop.
As an added bonus, the associates at Biris Jewelers are happy to provide customers with advice on mixing and matching pieces. For instance, they frequently tell visitors that combining yellow gold and white gold jewelry is no longer the fashion faux pas it once was. By simply selecting the right shades, these two metals can complement one another in a unique and appealing way. And no selection of jewelry offers the same wide array of pieces as Biris'.
Whether you're inspired by the yellow gold jewelry that's so popular in Italian lines or you prefer the subtlety of white gold jewelry, Biris Jewelers is the ideal solution for all of your high-end accessory needs. To learn more about the vintage jewelry and modern fashion jewelry pieces available at this Stark County, Ohio establishment, visit their website at www.birisjewelers.com, or give them a call at 330.494.8182 if you have any questions. But if you'd like to peruse their inventory of gold and diamond jewelry while taking advantage of their expertise, make sure to visit this family-owned jewelry store in person. Biris can offer you the service and selection that other Massillon, Ohio; Canton, Ohio; and Jackson Township, Ohio stores just can't match.
Biris Jewelers
806 S Main St
North Canton, Ohio
Ph: 330.494.8182
www.birisjewelers.com