History textbooks refer to the period from 1901-1910 as the Edwardian era. Named after King Edward VII of England, the Edwardian era featured long, straight, "S" curve dresses and large hats. In addition to women's clothing, Edwardian jewelry was also particularly unique. Edwardian rings, necklaces, brooches and bracelets were characterized by delicate yet elaborate filigree work. Typically made using platinum, yellow gold, pearls and diamonds, such period jewelry was designed to highlight the gem's natural beauty. The diamond jewelry pieces from Biris Jewelers of North Canton, Ohio perfectly reflect the time period in which they were made, making this Stark County, Ohio shop the place to visit for such vintage accessories. By taking the trip from your Canton, Ohio or Massillon, Ohio home to Biris Jewelers, not only can you peruse their inventory of eye-catching Edwardian gems, but you can even receive a more detailed history lesson in the process.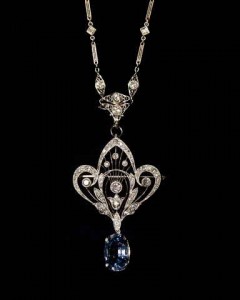 As Biris Jewelers specializes in diamond period jewelry, this North Canton shop should be your first stop when searching for Edwardian jewelry. As with all of their vintage accessories, Biris Jewelers has scoured the country for genuine Edwardian rings, necklaces, brooches and bracelets, making them Stark County's premier source for jewelry produced during this era. In addition to ensuring that their inventory contains only authentic pieces, Biris Jewelers strives to offer customers the most dazzling and high-quality products possible. Opting to visit this family-owned establishment instead of shopping online allows customers to browse, try on and purchase the very best that the Edwardian era has to offer.
If your interest in Edwardian jewelry is due in part to the originality of the designs, you'll really appreciate Biris Jewelers' selection of Edwardian rings, necklaces, brooches and bracelets. With wreaths, scrolls, floral garlands, bows and more, these vintage accessories take common items and turn them into works of art, demonstrating the sophistication of the era. Most, if not all, of the Edwardian period jewelry from Biris Jewelers consists of soft filigree work with a platinum setting in the front and yellow gold in the back. And since diamonds were some of the most popular gems of the time, a majority of the items within Biris' inventory are diamond jewelry.
Wearing vintage pieces from the Edwardian era not only allows fashion-savvy individuals to dress up their favorite ensembles, but to help bring back a style that has had a significant impact on today's trends. If the idea of wearing such accessories sounds appealing, then it's well worth the short trip from your Canton or Massillon home to Biris Jewelers.
As Biris Jewelers has been a family-owned and operated business since 1940, each of this Stark County, Ohio shop's staff members has detailed knowledge of period jewelry, making them Edwardian jewelry experts. Whether you want to learn more about the diamond jewelry from this era or you simply want to see what kind of Edwardian rings, necklaces, brooches and bracelets they have available, you can find additional information on their website at www.birisjewelers.com. But to see their vintage accessories in person, take the trip from your Canton, Ohio or Massillon, Ohio home to their shop.
Biris Jewelers
806 S Main St
North Canton, Ohio
Ph: 330.494.8182
www.birisjewelers.com